A group of media organizations filed a brief yesterday requesting the court unseal videotapes of the trial which successfully overturned California's Proposition 8, the AP reports: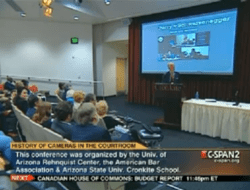 The 13 organizations, which include The Associated Press, argued in a motion filed Monday with the 9th U.S. Court of Appeals that the videos are court records that the First Amendment requires to be open to the public. Sponsors of voter-approved Proposition 8 asked the 9th Circuit last week to keep the tapes sealed and to order the trial's presiding judge to return his personal copies.
The move came after now-retired Judge Vaughn Walker, who declared Proposition 8 unconstitutional, used a brief segment of the video in several public talks.
Read the brief, AFTER THE JUMP…
Recently…
Judge Walker Explains Use of Prop 8 Trial Videos; Pro-Marriage Equality Lawyers File Motion for Release of All Tapes [tr]