Former National Organization for Marriage staffer Louis Marinelli, who resigned two weeks ago from the anti-gay group and came out in support of marriage equality, spoke with SiriusXM radio host Michelangelo Signorile, and told Signorile that NOM President Brian Brown has been threatening and intimidating him for talking about the group.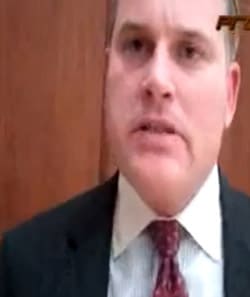 Said Marinelli: "…I've received a message or two from Brian, who basically has – he's trying to intimidate me to stop talking. He's saying that if I don't remove the posts I've posted on my site and I don't stop telling the truth about who they are he may pursue legal action…I considered it an intimidation tactic…On two occasions he wrote me a message saying if I don't comply with his wish that I remove certain posts from the site…that he would have no option but to pass it on to his attorneys and pursue legal action…"
Listen to audio clips from Signorile's interview here.
Marinelli told our weekend editor Steve Pep in an interview that Brown was surprised by his defection, and will do anything he can to protect his religious beliefs, adding:
"I don't expect that we're gonna be in much contact coming in the future. And that's disappointing but I had to do what I had to do and I had to weigh the two and I came to the conclusion that protecting and fighting for equal rights for all Americans is better than preserving any one particular friendship. In fact, if it is true friendship then the friendship will continue regardless in any difference in opinion."
Brown has been publicly trying to play down the Marinelli defection, saying it doesn't bother him, though apparently that's not the case.
Marinelli recorded a video over the weekend in support of marriage equality.