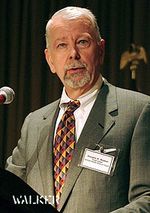 They've filed a motion to the 9th Circuit Court of Appeals asking Judge Walker to return tapes of the trial he has in his possession, which led to his ruling:
Lawyers for supporters of the voter-approved ban also asked the 9th U.S. Circuit Court of Appeals on Wednesday to prohibit former Chief U.S. District Judge Vaughn Walker from playing the recordings for anyone else.
The motion came in response to a talk Walker gave in February at the University of Arizona and rebroadcast on C-Span.
During his presentation, the judge showed a clip from the trial.
The lawyers say that violated a U.S. Supreme Court order and assurances from Walker.