Tennessee's Senate has approved Stacey Campfield's hideous "Don't Say Gay" bill which would forbid discussion of homosexuality in classrooms, WMCTV reports: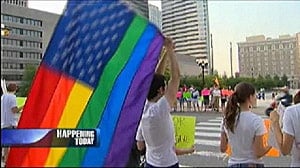 Under the proposal approved 19-11 on Friday, any instruction or materials at a public elementary or middle school will be "limited exclusively to age-appropriate natural human reproduction science." Republican Senate sponsor Stacey Campfield of Knoxville says "homosexuals don't naturally reproduce."
Campfield says current state curriculum is not clear on what can be taught.
The companion bill has been withdrawn from consideration in the House. But its sponsor has said he will bring it up again next year if the Senate version passes.
The bill was the subject of recent protests by the FCKH8 campaign and also a group of students who took their outrage to Tennessee's capitol. Actor George Takei also recorded a video protest of the measure.
In any case, there's another horrible piece of legislation in Tennessee aside from the "Don't Say Gay" bill which got final approval this week. This bill prohibits local municipalities from enacting their own non-discrimination statues and would force them to rely on state law. The new law would void a Nashville ordinance barring companies that discriminate against gays and lesbians from doing business with the city.
The Tennessee Chamber of Commerce lobbied  for the bill. FedEx, AT&T, Comcast, DuPont, Pfizer, Blue Cross Blue Shield, Caterpillar, KPMG, Whirlpool, Embraer, Alcoa, and United HealthCare are on that board, notes Americablog.
They have started a campaign to pressure the governor to veto the bill.