On Wednesday, May 18, the Cato Institute in Washington, D.C. is hosting a panel on the case for marriage equality: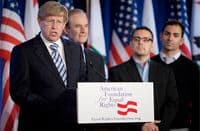 Featuring the co-counsels, David Boies, Chairman, Boies, Schiller & Flexner and Former Chief Counsel, Senate Judiciary Committee; and Theodore B. Olson, Partner, Gibson, Dunn & Crutcher and Former Solicitor General. With comments by the co-chairs of the advisory board of the American Foundation for Equal Rights, Robert A. Levy, Chairman, Cato Institute; and John Podesta, President, Center for American Progress.
A live video feed of the event will be available.