In response to House Speaker Gordon Fox's announcement late last week that the goal had shifted from full marriage equality to civil unions, activists are planning a rally today at Rhode Island's state house, the Providence Journal reports: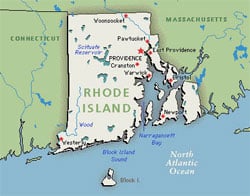 The advocacy group known as Marriage Equality Rhode Island has announced a rally at the State House for 4:30 p.m. on Tuesday, to coincide with the anticipated introduction of the leaderhsip-backed civil-unions bill.
A statement issued Monday by the advocacy group said: "The rally is in response to an overwhelming outcry by marriage-equality supporters expressing their unwillingness to accept the second‐class rights bestowed by civil unions.
"We are rallying to let everyone know we will not accept the legalized discrimination civil unions would create. Our demand has always been for the recognition of full equality, not the establishment of a second class of citizenship," said MERI campaign director and former state Rep. Ray Sullivan.
Said Fox, who is openly gay, in a letter to colleagues late last week:
Although my personal position on marriage equality has not changed, I have always been a practical person and I believe my pragmatism is one of the reasons why I was elected Speaker of the House…Based on your input, along with the fact that it is now clear to me that there is no realistic chance for passage of the bill in the Senate, I will recommend that the House not move forward with a vote on the marriage equality bill during this legislative session. I will instead support full passage of a civil unions' bill that grants important and long overdue legal rights to same-sex couples in Rhode Island."
A civil union bill will reportedly be introduced today.