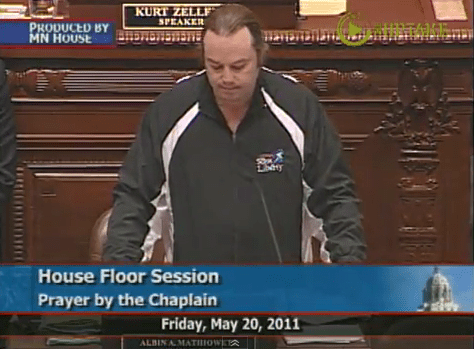 Yesterday, an anti-gay, tea party-supporting pastor/radio host named Bradlee Dean delivered what was supposed to be a non-denominational opening prayer at start of the session for the Minnesota House, who will soon vote on an anti-gay marriage bill in that state. Instead, Dean prayed to Jesus and even implied that President Barack Obama is a Muslim.
"I know this is a non-denominational prayer in this chamber and it's not about the Baptists and it's not about the Catholics alone or the Lutherans or the Wesleyans or the Presbyterians, evangelicals or any other denomination but rather the head of the denomination and his name is Jesus, as every president up until 2008 has acknowledged. And we pray it. In Jesus' name."
Soon after, Democratic Representative Terry Morrow took to the House floor to call out Dean and condemn those who invited him to speak.
"… it has been my understand that part of the justification, part of the explanation for starting our sessions with a prayer was that those prayers would never exclude, never marginalize a Minnesotan on the basis of their faith, on the basis of their belief, on the basis of who they are, and those expectations have been crushed today."
Republican House Speaker Kurt Zellers took responsibility and then apologized for having asked Dean to deliver the opening prayer.
"I respectfully apologize to all members in the Minnesota House of Representatives and all citizens of this state for today's morning prayer. As Speaker of the House, I take responsibility for this mistake. I am offended at the presence of Bradlee Dean on the floor of the Minnesota House of Representatives. I denounce him, his actions and his words. He does not represent my values or the values of this state."
In the past, Dean (who is some kind of bigoted pastor/rocker hybrid) has called for the execution of gays. An article published in Mother Jones earlier this week points out that the evangelical Christian has formed a tight bond with none other than Michelle Bachmann:
"…over the last five years, Bachmann, the politician, and Dean, the metal-head, have formed an unlikely but powerful alliance. Bachmann has helped raise money for Dean's traveling youth ministry, You Can Run But You Cannot Hide International; guest-starred in his television series; and prayed for his ministry to multiply 10-fold. Dean, for his part, has embraced Bachmann, whose district includes his suburban community of Annandale, as an ally against the gay agenda. But his inflammatory rhetoric and past links to an anti-government organization make Bachmann's own controversial views seem downright pedestrian—and raise serious questions about the congresswoman's choice of associates."
Watch the tail end of Dean's opening prayer, Morrow's angry criticism followed by Zellers' mea culpa, AFTER THE JUMP.