Just a week after his appointment as Chief of Mission for the 2012 United States Olympic team, two-time Olympic gold-winning gymnast Peter Vidmar has stepped down from his post.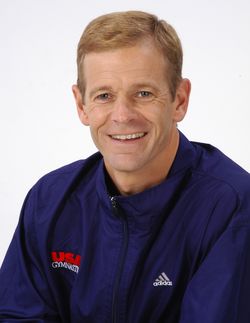 Reports surfaced earlier this week that Vidmar had been very active in his support of California's Proposition 8 campaign in 2008. At the time, he was an participated in anti-marriage equality marches and donated $2,000 of his own money to the campaign. Vidmar, who is a Mormon, has been quoted having said "it's good for our society to have a traditional definition of marriage.'
He said in a statement after his resignation:
"I have dedicated my life to the Olympic movement and the ideals of excellence, friendship and respect. I wish that my personal religious beliefs would not have become a distraction from the amazing things that are happening in the Olympic movement in the United States. I simply cannot have my presence become a detriment to the U.S. Olympic family. I hope that by stepping aside, the athletes and their stories will rightly take center stage."
As Andy noted yesterday, Johnny Weir had some harsh words for Vidmar: "The fact this man who is very publicly against something that may be represented on the American team is disgraceful."
The United States Olympic Committee had been unaware of Vidmar's anti-gay views until this week.