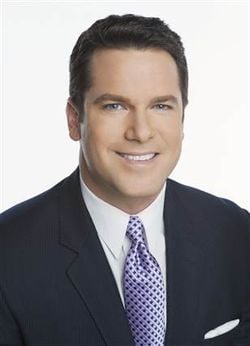 Interview by Steve Pep, Weekend Editor
Thomas Roberts is one of the few openly gay anchors on cable news and he recently landed himself a permanent gig on MSNBC, the same network that employs the most famous openly gay anchor of them all; Rachel Maddow. I interviewed him this week about his new job, religion, his recent appearance on "30 Rock" and the coverage of LGBT-related news in the mainstream media.
SP: You've had your own show at MSNBC for a few months now. How did it feel to sign on as a full-time anchor on the cable channel?
 
TR: It felt great. I signed my contract right before Christmas. It really capped off an incredible year and just meant the next one was going to be even better. I think we are off to a wonderful and strong start.
 
SP: Has it been a good fit for you?
 
TR: The fit is fantastic. I love the people, I love the work and I love the brand.  I have never been more comfortable in my own skin and I think that comes through on air…at least I hope it does.
SP: You recently appeared on an episode of "30 Rock." What was that like?
 
TR: It was very cool.  Watching the episode was the exciting part.  I shot my three scenes in the MSNBC studios so I didn't get to interact with the cast.  I am hoping for a recurring role J.  Maybe "Liz Lemon" can develop a crush on me only to find out that I play for the other team.
SP: During your contribution to the "It Gets Better" campaign, you revealed that you attempted to take your own life at age 15. What kind of difficult events did you face at the time that led you to attempt something so drastic?
 
TR: That was a very low point in my very young life.  My parents had recently divorced. I was suffering some tremendous growing pains and I was being sexually abused by my high school chaplain. The weight of all that shame seemed unbearable and I thought suicide was the only way to freedom from what my day to day life had become.  I wasn't mature enough to understand what was happening to me wasn't my fault and I didn't think anyone would believe me if I told the truth about the abuse.  I was always afraid, like a cat on a hot tin roof.
The rest of the interview, AFTER THE JUMP.
SP: What kind of support system did you have after the attempt?
 
TR: My sister found me and saved my life. My family worked very hard to get me back to a better mental place.  I had such a sense of hopelessness. However, the pain that I saw I caused my family, I knew I could never put them through that again and living was the only way to move forward.
SP: You said that you would like to get married in your native state of Maryland. How did you feel when the state's marriage equality bill, which looked like it had a very good chance of passing, eventually died in the House?
 
TR: Yes, I did.  Again, I feel comfortable and I am happy to share that on-air.  I think time is on my side and it will eventually pass.  I am just proud that my home state is working toward legislation that reflects equality.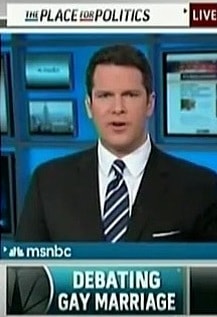 SP: You still consider yourself a Catholic though you no longer practice. What are some of the positive things you take away from the religion?
 
TR: I take my spirituality with me and I am glad to have it.  Being a survivor of sexual abuse at the hands of the church robbed me of enough and I won't allow it to take my spiritually as well.
 
  SP: What do you say to those critics who believe that being gay and Catholic is a contradiction?
 
TR: Life is full of contradictions. My faith was chosen for me by my parents and today I am not a "fully functioning/practicing Catholic."  I don't think I am alone with that concept.
 
SP: You told me last year that though you're not a fan of outing people, that you wish some closeted people would "grow a pair." What do you think is the biggest fear possessed by news anchors who live openly gay in their private lives but choose to not come out publicly?
 
TR: I think the biggest fear is self acceptance.  We all have different timing for when that comes along.
 
SP: Your colleague, Rachel Maddow, recently revealed three beliefs she has about gay news anchors. Do you agree with any or all of her these?
 
TR: Rachel is brilliant and I love her.  Enough said!
SP: Which LGBT issues do you believe deserve the most media attention right now?
 
TR: I have been so saddened by this recent rash of LGBT suicides and I think talking about it and covering it has been a great help.  I still think the dialogue needs to remain open.  I also feel the same sex bi-national couple issue is huge.  There are same-sex couples who have been married legally in this country and now face being split apart because they are not recognized by the federal government.
SP: Do you think there is enough coverage of LGBT-related issues in the mainstream media?
 
TR: I think we have never seen more than we do today.  I am proud to be part of that nudge and I only think we will see more.  Just showing up for work on a daily basis puts an LGBT face in mainstream media, whether we are covering an LGBT issue that day or not viewers see me daily.  That in itself is a great accomplishment.