A federal judge has denied Prop 8 proponents' frivolous motion to vacate Judge Vaughn Walker's ruling in the Prop 8 case over Walker's sexuality. 
Read Judge James Ware's ruling, AFTER THE JUMP…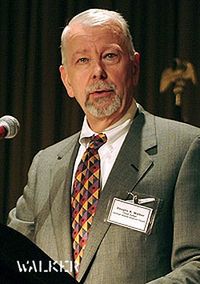 Prop 8 proponents filed the motion in April to vacate the ruling overturning California's ban on same-sex marriage, saying that the judge's recent statements that he is gay mean he should have recused himself from the case, and give them grounds to appeal.
Walker came out publicly for the first time in early April.
At the time, Walker said he would never think of recusing himself from a case over his sexuality:
Walker, who retired from the bench at the end of February, said it would not be appropriate for any judge's sexual orientation, ethnicity, national origin or gender to stop them from presiding over a case.
"That's a very slippery slope," Walker said.
Writes Ware in the ruling:
After considering the Oppositions to the Motion and the governing law, as discussed below, the Court finds that neither recusal nor disqualification was required based on the asserted grounds. The sole fact that a federal judge shares the same circumstances or personal characteristics with other members of the general public, and that the judge could be affected by the outcome of a proceeding in the same way that other members of the general public would be affected, is not a basis for either recusal or disqualification under Section 455(b)(4). Further, under Section 455(a), it is not reasonable to presume that a judge is incapable of making an impartial decision about the constitutionality of a law, solely because, as a citizen, the judge could be affected by the proceedings. Accordingly, the Motion to Vacate Judgment on the sole ground of Judge Walker's same-sex relationship is DENIED.
Ware writes in the ruling that "it is not reasonable to presume that a judge is incapable of making an impartial decision," adding that "no personal bias or reasonable doubt about the judge's impartiality exists in these circumstances."
Equal protection and due process benefit all society, not just minorities, Ware writes, and "all Californians have an equal interest in the outcome of the case." … "The single characteristic that Judge Walker shares with the Plaintiffs … gave him no greater interest in a proper decision on the merits."
Lambda Legal Staff Attorney Peter Renn applauded the ruling: "The court decisively rejected an outrageous attack on the integrity of Judge Walker, not to mention judges in general. The motion was a sideshow designed to deflect attention from the fact that the proponents had every chance to prove that Prop 8 was constitutional, but could not do so. Prop 8 was declared unconstitutional because it is unconstitutional – not because the judge is gay."
Our legal expert Ari Ezra Waldman wrote his take on the motion back in April. Read it here.
Read the ruling, AFTER THE JUMP…