France's parliament has rejected a Socialist Party proposition to legalize same-sex marriage in a vote of 293-222, the AP reports: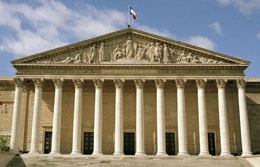 Supporters say it is needed to bring France into line with nearby countries like Spain, Belgium and the Netherlands, which have already legalized gay marriage.
Earlier this year, France's highest court ruled that laws banning gay marriage don't violate the constitution.
Opposition to the bill was led by President Nicolas Sarkozy's conservative party UMP, AFP adds:
"We are against homophobia but we do not want to alter the image and function of marriage in the collective subconscious," said UMP lawmaker Michel Diefenbacher.