Gay and lesbian couples will be able to receive the state's first civil union licenses this morning in Illinois.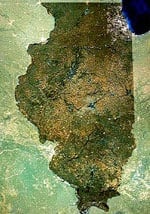 The Chicago Tribune reports that things should be quite festive outside the Cook County Clerk's downtown office:
The doors will open at 7:30 a.m. and the clerk's office will celebrate what it calls "the momentous occasion" by awarding a special gift package to the first couple to get a license. Adding to the festive atmosphere, about 20 local businesses will be supplying gifts that will be raffled off to other couples in line.
As with marriage licenses, couples will have to pay a $35 fee and wait one day before they can hold a civil union ceremony. Couples who are already registered as domestic partners in Cook County but want to enter into a civil union will get a $20 discount and their domestic partnership will be automatically dissolved.
Those seeking civil union licenses in neighboring suburban counties should not expect the same pomp that will be found at the Daley Center.
Pat Quinn signed the civil union bill into law on January 31.