A group of Methodist clergy have come together in support of same-sex marriage, WJON reports: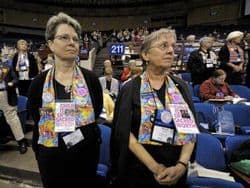 "During their annual conference in St. Cloud, about 40 Minnesota United Methodist clergy have signed a statement saying they would marry any couple who came to them, including same-sex couples. Reverend Bruce Robbins of the Hennepin Avenue United Methodist Church in Minneapolis read the statement yesterday (Wednesday) afternoon. He said he initially had about a dozen of his colleagues sign the statement, by last night that number had grown to 40. The statement was a voluntary action and not a part of the annual conference."
Bishop Sally Dyck noted that "church discipline does forbid same-sex marriage, and clergy who perform them could lose their conference membership, or clergy credentials."