The couple who shot to instant fame for kissing on the street amidst the chaotic riots in Vancouver earlier this week have come forward.

Ryan Gosling beaming at the premiere for his movie, Drive.

Astronaut Buzz Aldrin files for divorce from his wife of 23 years.

HIV infections reportedly drop in gay and bisexual men in California. Other findings: "The rates of new, positive HIV tests in recent years were highest in men age 18 to 24, a finding that suggests younger men may be more likely to engage in risky behaviors such as unprotected sex, researchers say."

Ryan Murphy is getting hitched.

New sci-fi video game set in the 1950s to include closted gay character.

The music video for "I Wanna Go" by Britney Spears to debut next week.

Study shows that you might just lose a few IQ points if you watch Jersey Shore.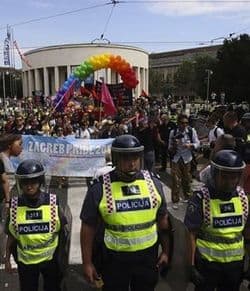 2,000 marched in the 10th Pride parade in Zagreb Croatia today. 700 police protected the participants in order to avoid the type of violence that struck a rally in Split last week.

Gay rights group wins auction; will now confront Australian prime minister Julia Gillard about her anti-gay views during a dinner party.

Watch: Amazing video of a 6.3 quake hitting a hardware store in New Zealand.

"Flying deer" causes blackout in Montana.

Canadians hold kiss-in in their country to support marriage equality in the United States.

Jennifer Lopez could pull an Ellen DeGeneres and make herself a one-season judge on American Idol.

Multi-millionaire Mitt Romney resorts to damage control after telling a group of people who are out of work that he is also unemployed.