Wanda Sykes was on Piers Morgan's program on CNN a few days ago and spoke about the positives and negatives about coming out. She gave him one of her characteristic amusing responses: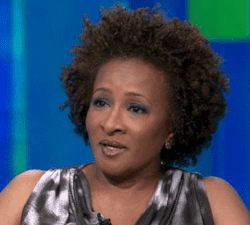 "[the best thing about coming is] absolutely nothing to hide. I mean, I am what I am and this is it. So now, you know, you thought I had a big mouth before, now it's just crazy. I'm like over the top, you know. There's nothing that I can't say.
"The worst thing, I guess, is just dealing with it, you know, like with family, and it's not necessarily the worst thing but, man, it's like every day I get invited to some gay event… good Lord, if I go show up at all these gay events, I'm not going to make any money. I'm going to be a broke gay. I'm going to be the brokest lesbian out there."
She also answered a question about whether it is more difficult to be gay than black in the United States. According to her, being gay is more difficult primarily due to the active bigotry created by anti-gay organizations like Focus on the Family and American Family Association.
Watch a clip of that conversation, in which she also talks about what sparked her coming out, AFTER THE JUMP.