Voters in Liechtenstein, the tiny country wedged between Switzerland and Austria, on Sunday approved a partnership law for gay and lesbian couples, the AP reports: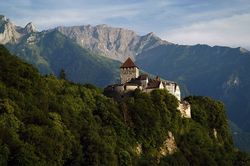 The government says 68.8 percent of voters approved the law in a binding referendum Sunday. About 31.2 percent voted against it.
Roman Catholic groups had challenged the law saying it would weaken traditional family ties.
Gay and lesbian couples will now be put on a par with heterosexual couples when it comes to inheritance, social security, immigration and taxation. They will still be barred from adopting children or accessing reproductive medical services.