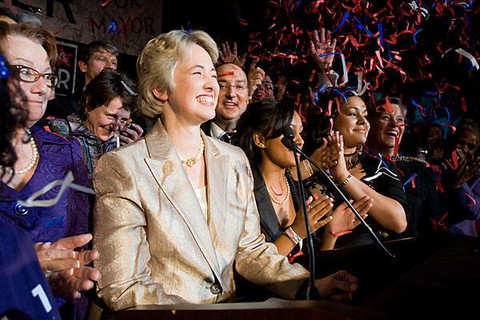 We all know by now that politics can be a dirty business. And that's especially true when same-sex relations are involved. Just consider Houston mayoral candidate
David Wilson
, who recently sent out an email warning against lesbian mayor
Annise Parker's
"homosexual agenda."
"Being homosexual is one thing," Wilson writes in the letter, which he sent to Parker's contributors. "But using your position of power to promote the homosexual agenda." Wilson goes on to cite transgender judge Phyllis Frye, whom he calls a "transvestite," as evidence of Parker's alleged plot.
And, in a particularly insidious turn, Wilson uses LGBT family members to make his discriminatory case: "I have family members and friends who have been ensnarled and trapped in homosexual behavior, and I know firsthand of the incredible pain and sorrow it has brought to them and their families."
But Mayor Parker won't let Wilson get away with such a vile trick. She released her own letter last week imploring voters to back her up: "Today I am running for a second term as mayor. And, just as in 2009, I am being attacked because I am a lesbian." Parker then asks recipients for a donation "to help me fight back against these attacks."
Writes the mayor, "Your contribution will help me win re-election and show David Wilson and narrow-minded bigots everywhere that anti-gay attacks don't work and have no place in civilized society."
Here's a PDF of Parker's letter, which includes Wilson's remarks.