Colorado's state title board will meet with 19-year-old college student Mark Olmstead next week regarding his proposed 2012 ballot initiative that would reverse Amendment 43, which bans same-sex marriage, and replace it with language saying two people can marry regardless of gender, the AP reports: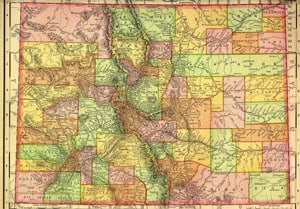 "If approved, supporters would have to collect about 86,000 signatures to put the question to voters. The proposal would reverse a 2006 amendment that said only a union of one man and one woman would be a valid marriage."
Olmstead says he was inspired to propose the ballot measure by New York's marriage equality passage.
A civil union measure in Colorado failed to get out of committee earlier this year.
OutFront Colorado's Nic Garcia reports that Olmstead is pursuing his proposal without support from LGBT rights groups:
Olmstead said One Colorado reached out to him and asked him to withdraw his initiative because it would conflict with its push for civil unions, but spokeswoman Jessica Cook Woodrum said that isn't the case.
"We didn't ask Mr. Olmstead to withdraw the initiative," she said. "We met with him and had a frank conversation about the difficulties of any ballot initiative, but we didn't ask him to withdraw."
Cook Woodrum said One Colorado applauds Olmstead and supports the spirit of the proposal, but cautions now is not the time to ask the LGBT community to finance what would most likely be a multi-million dollar campaign.
She denied fears it would conflict with One Colorado's argument that civil unions aren't a first step toward same-sex marriage, as some Republicans in the state senate argued.
Olmstead plans to decide what path to pursue after the board hearing.
Watch an 11 News report, AFTER THE JUMP…