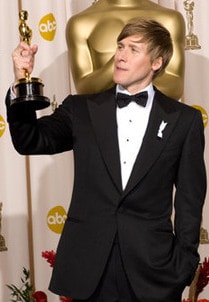 Dustin Lance Black has been a busy boy.
The 37-year old screenwriter and activist who achieved fame, fortune and an Oscar for his work on Milk spent the last six months sifting through thousands of transcripts from the Proposition 8 trial and has turned them into a play, 8.
The play, which features dramatized adaptations of all the California gay marriage trial's main characters, will hold its first reading on September 19th at the Eugene O'Neill Theater in New York City, the New York Times reports:
[The new play] will be performed in a staged reading on Broadway in September and then produced at Carnegie Mellon University, Northwestern, the University of Michigan, and elsewhere.
…

The play consists mostly of verbatim dialogue and statements from the trial transcript, Mr. Black said, as well as his own observations from sitting in the courtroom most days and interviewing people on both sides of the case.
…
"One of my hopes about the trial was to get the opposition in court, hands raised swearing to tell the truth, and have the world see the opposition called to account for going on TV saying gay people harm children, harm families," Mr. Black said. "Since the trial itself wasn't heard or seen, I wanted to get that story out another way."
No word on who will star in the reading, but producers promise "a cast of top Hollywood names and Broadway's finest." Only the best for Mr. Black.