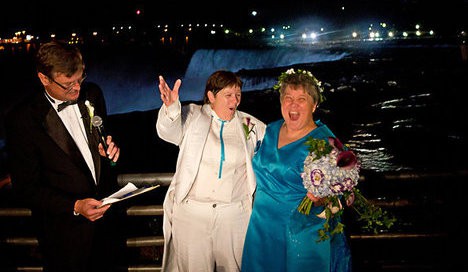 It's a monumental day here in New York State, where hundreds of same-sex couples are planning to take advantage of our new marriage equality legislation and tie the knot.
In fact, some already have done the deed. As the New York Times reports, lesbian couple Cheryle Rudd and Kitty Lambert became the first gay married couple this morning, when they exchanged vows at Niagara Falls. And already 823 couples plan to marry in the Big Apple today, while countless more will do the same across the state, where city clerks and judges volunteered to come in on Sunday to help officiate over and process the new nuptials.
Regular men and women are also getting ordained so they can preside over their friends' weddings. "When gay marriage passed, I thought it would be great [to get ordained]," Brooklyn resident John DeLamar told the New York Daily News.
"When my friends asked me to marry them, I was really moved. We've been fighting for gay marriage together – we marched on Washington, we've been campaigning and pamphleting to get it approved. Marrying them is a great responsibility."
Meanwhile, divorce lawyers are salivating over the potential for new clients, predicting that, like straights, about half of gay marriages will end in divorce. "To divorce lawyers, gay marriage is the best thing since the Magna Carta," said Manhattan-bsed lawyer Raoul Felder. "It basically doubles the population pool of potential clients."
Not everyone is celebrating the big day, though: the National Organization for Marriage will hold multiple protests, as will the always inflammatory Westboro Baptist Church, which insists, "For their defiance of their Lord, New Yorkers will suffer the wrath of God being poured out on them from the sky, just as others in history who have followed this path experienced."
Well, we'll see about that.
Luckily, three LGBT groups are organizing their own protests to counter WBC's event, including their protest at Gracie Mansion, where Mayor Mike Bloomberg will preside over the wedding of two of his staffers.
And the excitment doesn't end today, as the Times points out:
On Monday night, three gay couples will wed onstage at the St. James Theater after the evening's performance of the Broadway musical "Hair." On Saturday, two dozen couples will marry in two pop-up chapels that are to be installed in Central Park. And the Fire Island Pines resort is promoting three same-sex wedding packages, one featuring a private ferry ride "complete with your own crew of drag queens."
Anyway you slice it, though, it's a big, big day here in New York and even if you're not here to celebrate, we can all agree, I hope, that we're living through history.