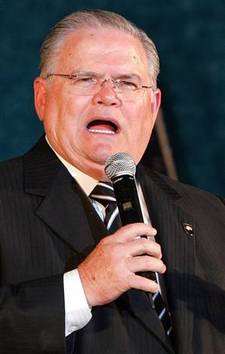 The United Kingdom regularly bars incendiary public figures from entering their territory.
Homophobic and racist radio host Michael Savage, for example, was banned in 2009, as were Westboro Baptist Church's Fred and Shirley Phelps.
And Islamic leader named Sheikh Raed Salah, who regularly espouses anti-Israeli sentiment, has also been banned from Britain.
Why, then, the UK is allowing American pastor John Hagee, a man who claims God sent Hurricane Katrina to punish New Orleans' gay-inclusive culture, to romp around their soil?
That's what Labour MP Richard Burden is asking as he protests Hagee's upcoming appearance at Birmingham Symphony Hall.
Read more, AFTER THE JUMP…
"It's hard to understand why Raed Salah is banned from the UK while Pastor Hagee is welcomed despite his repulsive and bigoted views," said Burden. "I also wonder whether Symphony Hall knows what Pastor Hagee will be saying when he uses their premises."
He went on, "Many people might believe that he is entitled to freedom of speech, however offensive his opinions. But there is a difference between accepting his right to speak and actively helping him by providing premises."
Symphony Hall's general manager said they are well aware of Hagee's controversial past, but don't plan on canceling the event.
Officials at the Home Office, meanwhile, wouldn't remark on Hagee personally, although did say they "will seek to exclude an individual if she considers that his or her presence in the UK is not conducive to the public good."
Whether they feel Hagee harms the public good remains to be seen, although it should be pretty clear that he does…