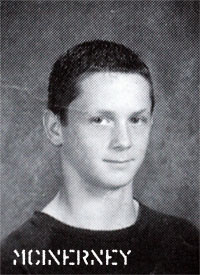 The defense and prosecutorial teams today offered opening remarks in the trial of Brandon McInerney, who's accused of murdering his classmate, Lawrence King.
As predicted, McInerney's defense team claims King, a gay 14-year old, was an "aggressor" who taunted and tormented McInerney with his sexuality.
"[Brandon is] a confused, emotionally torn 14-year-old from a violent home who saw no other way out than to shoot Larry. It was a heat of the moment decision," said defense attorney, Scott Wippert.
Prosecutors, however, insist McInerney planned and plotted to shoot King.
King was bullied by McInerney and other boys at the school, Deputy Dist. Atty. Maeve Fox said in her opening statement in the trial, which is being conducted at a courthouse in Chatsworth. But shortly before his death, King had begun wearing high heels, makeup and earrings to school and had become more confident in himself, she said.

"Larry King for the first time in his life wasn't taking it anymore," Fox said. "And he started to give people what I prefer to call the proverbial chin. Only it was more profane. The proverbial 'f … you.'"

The day before King was shot, the two boys had been bickering in a eighth-grade science class, she said. When King got up to get a drink of water, "Brandon said 'I am going to shoot him.' And this is what a student will testify to."
I wonder if this trial will get as much attention as Casey Anthony's trial. I hope that it does; as tragic as King's death was, perhaps this will help open the nation's eyes to how dangerous homophobia can be…