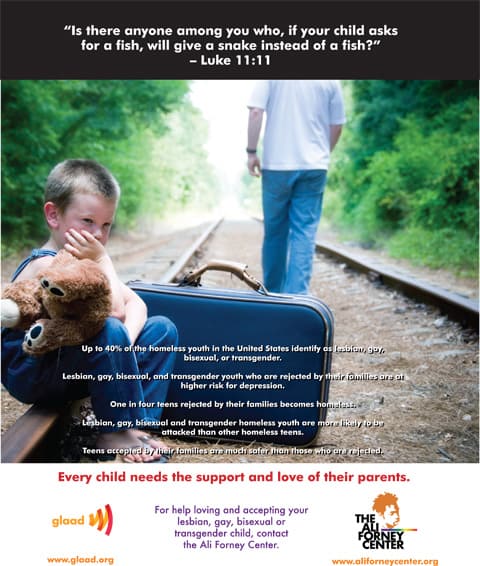 After it rejected an ad from Believe Out Loud, an organization whose purpose is to help Christian congregations become more welcoming of LGBT people, progressive Christian magazine Sojourners offered a variety of excuses for doing so:
The reasons cited were that the core issues of Sojourners are "poverty, racial justice, stewardship of the creation, and the defense of life and peace." Wallis reiterated his support for inclusion of LGBT people in the worship life of congregations. However he also stressed that Sojourners didn't want the Believe Out Loud ad to imply that Sojourners takes a stance on marriage equality, preferring to remain neutral. Sojourners says that it wants to be supportive of LGBT people, but prefers to do that through the editorial process, rather than through advertising.
GLAAD challenged the publication on its advertising and editorial policies regarding LGBT issues:
The representative from Sojourners reiterated to GLAAD that Sojourners wants to keep its primary focus on issues of poverty/homelessness, war/peace, and environment. GLAAD reminded Sojourners that LGBT people are involved in all those issues and that LGBT people are affected by those issues just as much as, if not more than, the general population. In the course of the conversation, GLAAD asked if an LGBT organization who worked in those primary focus areas would be able to place an ad. Sojourner's said yes, and GLAAD took them at their word.
GLAAD then was in contact with staff members from the Ali Forney Center, an LGBT youth homeless shelter in New York City. The Ali Forney Center was instrumental presenting the stories of youth rejected from their homes to comedian Tracy Morgan after he went on an anti-gay rant during a June 3 comedy performance in Nashville, Tenn. Carl Siciliano, the executive director of the Ali Forney Center, expressed a strong interest in reaching out to evangelical and mainline protestant Christians with information about causes of youth homelessness, particularly the connection between family rejection and LGBT youth homelessness. He shared with us that one quarter of LGBT youth rejected by their parents become homeless and nearly 40% of homeless youth identify as LGBT (pdf). Using these statistics, GLAAD and the Ali Forney Center created a full-page, color ad that is currently running in the September/October issue of Sojourners magazine.