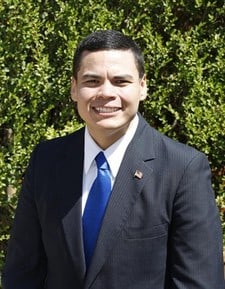 James Halfaday is breaking new ground in Charlottesville, Virginia, by becoming the first openly gay candidate to run for city council.
And, as he faces off against other Democrats, Halfaday says he's also contending with homophobic threats.
Via the Daily Progress:
Halfaday, one of seven Democrats who'll compete for three City Council nominations in Saturday's party primary, said one of his promotional fliers was returned to his campaign mailing address on Aug. 7 with his face crossed out and the message: "Democrat Don't Want You Homo."

Halfaday said he sought legal advice about the flier, but was told that it didn't constitute a threat, so there was little he could do about it.

According to Halfaday, the flier is the latest in a string of similar attacks.

In a message dated July 31, an emailer told Halfaday: "Promoting perversion is nothing to be proud of in your campaign, and you will have to answer for what you are now doing one day. Move out of Charlottesville fagot[sic]."
Halfaday also received threatening Facebook messages that were set up to look like they were sent from a Democratic opponent. Halfaday originally tried to keep the situation quiet, but came forward, he explains, because he did not want to cause an "uproar" in LGBT communities. He also insists he refuses to be intimidated.