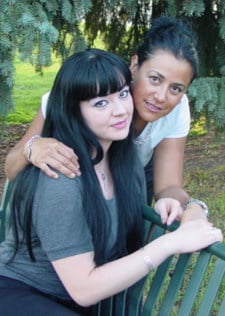 Yesterday, just as the Obama administration announced it would use "prosecutorial discretion" when considering whether to deport "low priority" illegal immigrants, Colorado Judge Mimi Tsankov halted the deportation case of Mexican national Sujey Pando, who is married to an American woman, Violeta Pando.
The details, from Stop the Deportations founder Lavi Soloway:
Because today's hearing was intended to be a final decision day on Sujey's deportation, the judge's action was unusual; she spent 45 minutes methodically considering the procedural posture of the case.  

In the end, the Judge set aside the intended purpose of the hearing, citing developments including the Attorney General's intervention in a similar case in May (Matter of Dorman) and noted that the issues involved in this case existed in a context that was 'fluid' and 'in a state of flux.'
Tsankov also reportedly cited the Obama administration's new rules as part of her decision.
As Violeta explains, Sujey came to the States after being abused and raped in Mexico. The two women first met in 2006, began dating and were married in Iowa last year.
Violeta also vows to leave the U.S. if Surjey is ultimately deported: "I have been placed in a position where I have to choose between my country and my wife… If Sujey is deported then I will be deported too, because I will not leave her side."