Malaysia's only openly gay pastor, Ouyang Wen Feng, who earlier this month urged gay people in his country to "keep coming out" to combat homophobia, plans to wed in New York on August 31 despite government objections, AFP reports: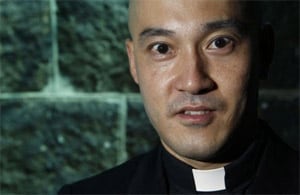 "Don't I have the right to invite my friends to have meals with me in (a) restaurant in Malaysia?" Ouyang said in an email to AFP over the weekend. "The world is watching. Malaysia cannot afford to jeopardise her image as a moderate country the government is trying to portray," he added.
Homosexuality remains a largely taboo subject in Malaysia, and sodomy is punishable by up to 20 years in prison. Islamic Affairs minister Jamil Khir Baharom said earlier this month that same-sex marriages, such as Ouyang's, were not allowed under the country's civil laws.
The date Ouyang has chosen is not insignificant. It's Malaysia's National Day, celebrating its independence.