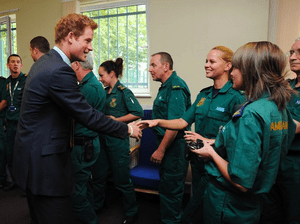 Designer Michael Kors and his long-time boyfriend, Lance Le Pere, tied the knot in Southampton on Tuesday. Said Kors of the event: "To marry someone as wonderful and special to me as Lance barefoot on a glorious beach is more than I could have dreamed of."

Can you match these abs with their famous bodies?

Remember the planned kiss-in to protest Pope Benedict's Spain visit? Coppers squashed it: "The activists had planned to join up on the major artery Calle Serrano along which the pope later travelled in his white, bullet-proof popemobile for a welcoming cermony in Plaza Cibeles square. But a few hundred metres from their planned meeting point and an hour before the pope passed by, a cordon of police block the demonstrators' way and forced them to disperse."

"A 61-year-old lifeguard is suing New York for age discrimination because he wasn't allowed to wear his preferred swimsuit during an annual qualification test." Roy Lester says he would rather wear swim jammers than a speedo.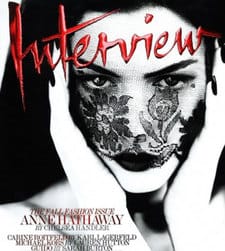 Prince Harry plays with firemen — and women.

New Jersey bridal shop won't serve lesbian because of her "illegal" same-sex nuptials.

Anne Hathaway on the cover of Interview.

Jane Lynch, her wife and daughter attended Fox's Glee sing-a-long, and they are just precious. How can conservatives look at this family and still claim same-sex parents don't count?

Scientists unlock weed's genetic secrets.

Rick Perry will address the Christian conservative group Cornerstone in October. In case you're not familiar, that group endorses "ex-gay" therapy. Considering all the press surrounding Marcus Bachmann's "ex-gay" clinics, and Michele Bachmann's eagerness to avoid the topic, one wonders whether Perry will face similar scrutiny in the mainstream media.

The Michele Bachmann movie that is not really about Michele Bachmann.

Sean Hayes returning to television for show about gay days. "I'm very excited," said the Will & Grace actor.

After walking out on Piers Morgan, Christine O'Donnell hangs up on radio interview. Man, her book tour is not starting on the right note.

Frances Bean Cobain is 19-years old. How old do you feel?

Ron Paul supporter wants to know if you — or, really, anyone — has ever had sex with Rick Perry.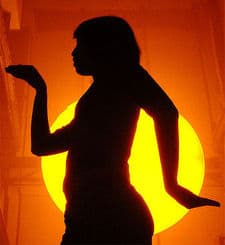 Poor, sad Glenn Beck. No one wants to buy his book.

Sting? "At least 100 gay priests across Italy were blackmailed by two southerners who used social networking websites to meet them, Italian weekly Panorama reported on Friday. The pair asked the priests for up to 10,000 euros each to keep quiet about their virtual sex sessions via webcam and in some cases, actual encounters…"

Missouri Lt. Gov. Peter Kinder has done an about-face and admitted to frequenting a strip club, but says he stopped going because "I'm a Christian." Because Christians don't go to strip clubs?

Three-thousand year old cemetery reveals that Egyptians had their hair did before being entombed.

At least two people dead after stage collapses in Belgium, only four days after a similar tragedy in Indiana.