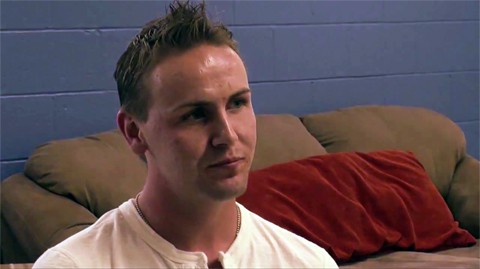 We filmed Derrick's story in Pocatello, Idaho. When we first arrived in Pocatello, we stopped at a diner to grab some dinner and a beer, which became custom after a long drive. 
After I went back in, the young waitress made a joke about leaving my friends at the table to go talk on the phone. She was quite the talkative and friendly waitress and kept asking questions, why we're in town, what we're doing, etc. I then noticed she had a small rainbow chain dangling from her necklace. I told her all about the site and the Tour and that we were having an event at Idaho State the next day and that she should come. She did and she brought some friends. Add that to Derrick's ultimately optimistic story, our little visit to Pocatello was a bit of a surprise hit.
Watch, AFTER THE JUMP…

Nathan Manske and Marquise Lee embarked on a 4 month, 50 state tour of the United States collecting stories for their I'm From Driftwood site. We'll be sharing some of the stories they collected along with some of the insight into what they saw. They're still encouraging people to submit their written stories via IFD. You can follow IFD on Facebook, Twitter and YouTube.
CHECK OUT OUR RECENT LGBT STORIES…
Bullying Affects Everyone [tr]
Accidental Online Chat Leads to 13 Years of Love [tr]
A Man's Journey Into – and Out of – 'Ex-Gay' Therapy[tr]
Gay Teen Saved by Lesbian Teacher, Outed, Excommunicated by Church [tr]
Boston College Professor Nearly Outed in Uganda, Comes Out in Ghana [tr]