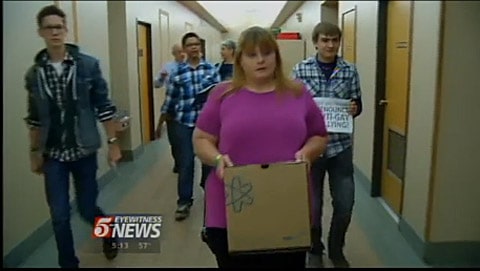 Tammy Aaberg, mother of Anoka-Hennepin gay teen suicide victim Justin Aaberg, delivered a box containing petitions bearing more than 130,000 signatures to Michele Bachmann's office yesterday, urging the congresswoman to address the issue of anti-LGBT bullying.
Watch KSTP's news report on the petition delivery, AFTER THE JUMP…
About 500 of the signers came from Bachmann's district, according to Becky Bond, a spokeswoman for San Francisco-based Credo Action, a for-profit mobile communications company that directs some of its profits to progressive causes. It also offers opportunities for users to generate and sign petitions.
The hourlong meeting with Bachmann staffer Deb Steiskal included Aaberg; Edina senior Gabe Aderhold, who heckled Bachmann during an Iowa State Fair appearance last month; his mother, Audrey Kingstrom; Edina classmate Graham Luterbach; Justin Anderson, a gay graduate of Blaine High School, and constituent Denny Smith, a St. Cloud resident. They shared their stories and views as Steiskal took notes and asked questions.
WCCO reports:
The congresswoman's press secretary issued a statement Thursday afternoon saying Bachmann will be reviewing Aaberg's request as well as the petition and when she is finished with the review she will respond.
The Anoka-Hennepin School District also released a statement saying that the district "stands behind any and all efforts to end bullying of gay students."
As you may know, Anoka-Hennepin is the subject of a federal lawsuit and investigation brought by civil rights groups and former students who charge that the school district, which has seen seven teen suicides over the past two years, refused to stand against anti-gay bullying or combat homophobia in its school system.
Watch KSTP's news report on the petition delivery, AFTER THE JUMP…