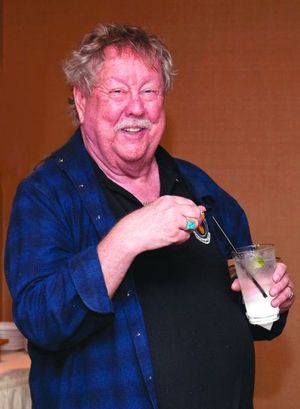 Before you get the idea that he's a hypocrite, city councilman Karl Baker, of Desert Hot Springs, California, is openly gay. This is not a sighting of the Homo Republicanus. In fact, the 70-year-old's only sin was to have a profile on Adam4Adam, and to use a shot of himself on the city council as his profile pic. There was also a nude, mydesert.com reports: 
Until Thursday, a Desert Hot Springs city councilman used a photo of himself taken during a City Council meeting as part of his profile on a website where members solicit openly for sex.

The image showed Karl Baker seated at a council meeting in front of a microphone and his nameplate.

The photo did not contain the city's name or logo.

The photo was posted alongside an explicit profile in which Baker, who is single and openly gay, describes himself and the types of sexual activity he is seeking. (…)

Baker pulled the photo after Lee Rayburn asked him about it during a radio show on KNEWS FM 94.3 on Wednesday. Desert Star Weekly, a weekly newspaper, also wrote about the photo on Thursday.

Baker, who said he considered it a personal choice made on his own time, said he never thought it was inappropriate to use an image of himself conducting city business to advertise for sexual encounters.
Shock. Horror. How dare he. But what did he do wrong, again? Here's the town's mayor pro tem, who "doesn't make a habit of commenting on personal lifestyle issues," commenting on this personal lifestyle issue: "That certainly does not seem to be appropriate behavior for somebody elected to office." 
I'm not sure why. It was probably ill-advised to use a city council pic on A4A, but who cares, really? The irony is that a politician is under attack for posting a completely tame photo of himself on a sex site. Unless this violated a regulation, I don't see a problem. If Baker – who's running for re-election – has any problem, it's his tendency to stay at expensive resorts on the taxpayer's dime.