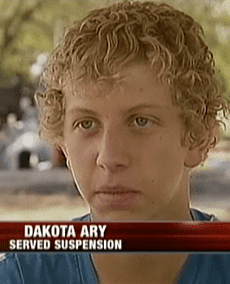 Kristopher Franks, the Fort Worth teacher who booted Dakota Ary from his class for anti-gay comments, returns to work today following an investigation into alleged improper behavior.
Franks was put on paid administrative leave last Monday for reasons unknown, though reportedly unrelated to the Ary incident, which became a national news story.
The Dallas Voice has more details:
Franks, who had not spoken to the press previously on the advice of his union representative, said Thursday afternoon that he had just met with Fort Worth Independent School District administrators, who told him the nearly weeklong investigation had determined that the allegations against him were unfounded. He did not elaborate on the substance of those allegations.

Franks also said administrators had given him the option of returning to teach at Western Hills High or transferring to another school in the district.

"I haven't made up my mind yet what I'm going to do," Franks told Dallas Voice by phone Thursday afternoon. "I'm going to go back to work tomorrow, and I will talk to my boss [the district's world languages supervisor], and see what she says and decide what's the best thing to ­do from there."
Franks told the paper that he's satisfied with the investigation, and now has to decide how to move forward. "I can go back to work, which is great. But now I just have to figure out how to fix the damage this whole thing has done to my personal life," he said.