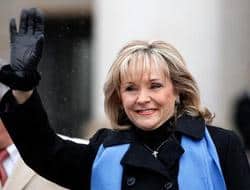 Oklahoma Gov. Mary Fallin recently appointed an out gay man, Jim Roth, to the state's election board.
This does not please the editors at the right-wing weekly The Tulsa Beacon, who wrote a vile editorial criticizing the move.
"Gov. Mary Fallin, who campaigned on her genuine Christian values, has nominated an outspoken homosexual to a post on the important Oklahoma State Election Board," they wrote, clearly convinced that Christianity and LGBT inclusion are mutually exclusive.
"She is required to name a Democrat but nowhere is there a requirement to name a homosexual to an important post," reads the editorial.
It goes on to claim the board "needs people of integrity, not those who live a perverted lifestyle, whether it be homosexuality or heterosexual promiscuity, alcoholism, drug addiction or a host of other personal problems."
Of course the paper does not go into Roth's personal life, and obviously wants readers to associate homosexuality with promiscuity and drug addiction, one of the oldest — and nastiest — tricks in the anti-gay book.