Students at Sequoyah High School in Madisonville, Tennessee are being threatened with suspension over trying to start a Gay-Straight Alliance.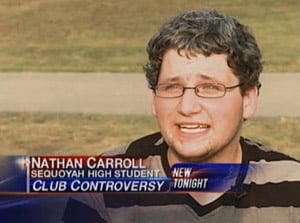 WATE reports:
Nathan Carroll (above), a senior at SQHS, says there's a big need for a GSA at their high school. "Just yesterday, students across the room would yell, 'God hates gays,'" said Carroll. "There is not going to be a gay club in this school. We don't deserve it."
Carroll says he has been bullied and sexually harassed for being gay most of his life. He says there are a lot of misconceptions about the GSA. "The Gay Straight Alliance is not a club to talk about sexual orientation," he said. "It's about sexual orientation, but it's not talking about sex in general. It's a support group. It's where you can go and you can talk about how you feel."
After students began passing around a petition to start a GSA, anti-gay students began passing around a petition opposing it. School officials ordered all students to stop any action around a GSA or be suspended.
Watch two local news reports, AFTER THE JUMP…