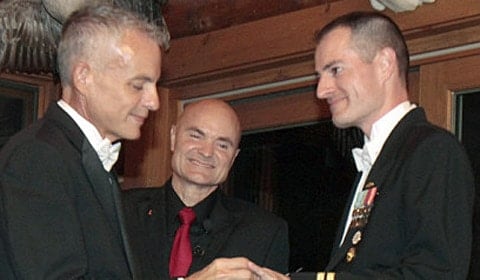 Navy Lt. Gary Ross married his partner of 11 years, Dan Swezy, in Duxbury, Vermont at the stroke of midnight last night, just as the military's ban on gays in the military was officially repealed, the AP reports:
Ross, 33, and Dan Swezy, a 49-year-old civilian, traveled from their home in Tucson, Ariz., so they could get married in Vermont, the first state to allow gays to enter into civil unions and one of six that have legalized same-sex marriage.
Ross wore his dress uniform for the double-ring ceremony that began at 11:45 p.m. Monday at Duxbury's Moose Meadow Lodge, a log cabin bed-and-breakfast perched on a hillside about 15 miles northwest of Montpelier. The lodge says it hosted the state's first gay wedding in 2009.
Justice of the Peace Greg Trulson proclaimed the marriage at exactly midnight.
"This is Gary's official coming out," Trulson said.
History being made in so many ways today. Ross plans on having a full career in the military.