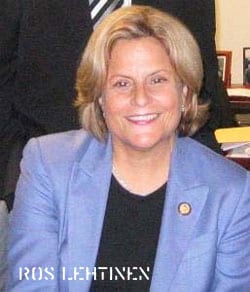 Ileana Ros-Lehtinen made history last week by becoming the first Republican representative to support the Defense of Marriage Act's repeal.
Not surprisingly, this upset the GOP's more conservative adherents, including the anti-gay National Organization for Marriage, which is now asking supporters to call, write and email Florida-based Congresswoman Ros-Lehtinen to pressure her to reverse course.
"Marriage is a bedrock of our society, and I urge you to re-consider your position on DOMA," reads the form letter.
It continues:
By co-sponsoring Rep. Nadler's bill to repeal the Defense of Marriage Act, you are placing in jeopardy the laws of marriage in more the 40 states, threatening to impose same-sex marriage on voters across the nation who have resoundingly rejected same-sex marriage at every turn.
NOM of course has its facts wrong: a majority of the nation actually supports marriage equality.
The increasingly marginalized group is also barking up the wrong tree, because Ros-Lehtinen seems to be extremely supportive of gay marriage: in her DOMA repeal announcement last week, the congresswoman insisted, "I co-sponsored the repeal of DOMA because I firmly believe that equality is enshrined in our constitution and in our great democracy."