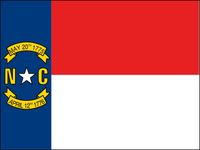 The North Carolina House will consider a constitutional amendment to ban same-sex marriage after it was approved by a House panel today, the AP reports:
"The House Rules Committee approved Monday the question after about a half-hour of debate. The full House was expected to take up the matter later in the day. Three-fifths of the House members must vote yes twice on the measure before it can move on to the Senate."
No comment was allowed from the public. Democrats say it is being "rushed through".