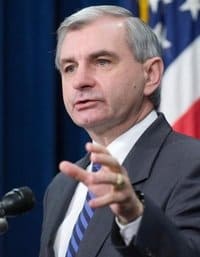 The LGBT group Marriage Equality Rhode Island has launched a new campaign to get Democratic Senator Jack Reed to support DOMA's repeal.
"Reed is the only member of the Rhode Island Congressional delegation who has yet to cosponsor the Respect for Marriage Act," says the group in a press release.
In response to the plea, Reed's office says he may sign on to the repeal, but also says that the Senator believes nuptials should be left to the states.
That is a pretty standard answer, if you ask me, one that's more aligned with political cowardice than actual equality.
Update: The Courage Campaign, Ocean State Action and Freedom to Marry are also part of the coalition effort to persuade Reed.