Iowa's two-and-a-half-year-old marriage equality law has always been safe due to a Democratic majority in the state senate. Not so anymore, the Daily Iowan reports: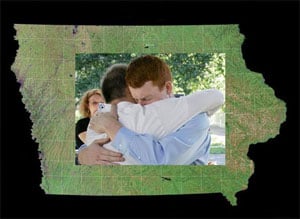 Democrats in Iowa — a state that legalized same-sex marriage in 2009 in a state Supreme Court decision — have been losing control of the Senate, with their numbers dropping from 27-22 to 26-24 in the November 2010 elections. After Sen. Swati Dandekar, D-Marion, announced in September that she was resigning, Democrats are at risk of losing control completely.
"If this does happen, if we were to lose that race, certainly it makes the chances of us seeing a Constitutional amendment passed through the Senate much more likely," said Troy Price, the executive director of One Iowa, the state's largest lesbian, gay, bisexual, and transgender advocacy group. "And should that happen, if it is able to pass in the next legislative session, as early as June 2013 you could see it on the ballot."
The open seat in District 18 — which is almost evenly split between registered Republicans and Democrats — is going to go to either Democrat Liz Mathis or Republican Cindy Golding.
Don McDowell, a Golding spokesman, would not specify whether the candidate was for or against gay marriage but did say she wants Iowans to have a voice on the matter.
Donations can be made here to lgbt rights group One Iowa, which is supporting Mathis.