Minnesota Archbishop John Nienstedt is taking a page from the playbook used by PR firm Schubert Flint in successful efforts to pass Proposition 8 in California and sending instructions to all his Minnesota minions to get on top of efforts to pass the ballot measure in the upcoming election that would ban same-ex marriage, the Minnesota Independent reports: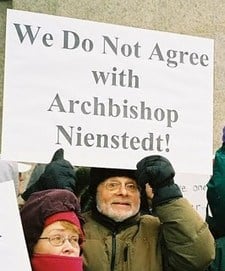 "It is imperative that we marshal our resources to educate the faithful about the Church's teachings on these matters, and to vigorously organize and support a grass roots effort to get out the vote to support the passage of the amendment," the letter read. It went out on Oct. 4 to every priest in the state.
The archbishop said it wants priests in every parish to identify a "church captain" in order to create an "ad hoc committee" in every church in the state. The "church captain" is a component of the Schubert Flint strategy used in 2008′s divisive Proposition 8 battle in California.
The paper adds: "According to Nienstedt's letter, the church captains will be organized by the Minnesota Catholic Conference, the public policy arm of the Catholic church, which will in turn report to the Minnesota for Marriage coalition for statewide efforts. Minnesota for Marriage is made up of the Minnesota Family Council, MCC and the National Organization for Marriage."
Nienstedt is perhaps the most anti-gay religious leader in Minnesota. You may recall his "traditional marriage" DVD campaign which sent out 400,000 DVDs containing an "urgent message" to state Catholics warning them about same-sex marriage.