Dozens are reportedly planning to protest an incident that took place three weeks ago at a Tim Hortons restaurant in Blenheim, Ontario in whcih a lesbian couple was ejected from the restaurant for what they say was an innocent display of affection.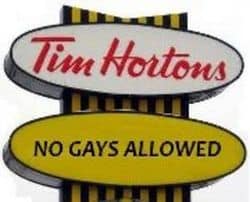 Riley Duckworth, 25, of London, and her partner Patricia Pattenden, 23 are not accepting an apology from the restaurant chain, the Globe & Mail reports.
Ms. Duckworth says she and her partner were outside drinking coffee with a group of family and friends and saw a man watching them from inside the restaurant.  She says soon after, the man went up to the counter, and a few minutes later the assistant manager came out and asked the couple to stop doing what they were doing and leave.
Ms. Duckworth says her partner had her hand around her waist, and had kissed her on the cheek once or twice but she denies they were groping each other.
"The manager said that our behaviour was inappropriate and that it was a family friendly establishment and it wasn't acceptable there," Ms. Duckworth said. "We would need to leave within five minutes or the cops would be called," she said they were told.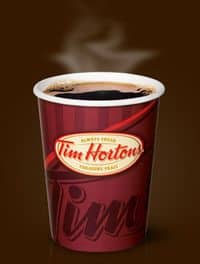 Duckworth and Pattenden say that as they departed this happened:
As the couple left, the pastor at a local church allegedly held a prayer circle with more than a dozen people in the parking lot to "pray for the couple's souls," Ms. Duckworth said.
Tim Hortons released a statement earlier this week:
"The guests' behaviour went beyond public displays of affection and was making other guests feel uncomfortable. The management has apologized to Riley and Patricia and invite them back to their restaurant. We apologize if (they) were offended by the misunderstanding that occurred at our Blenheim restaurant last month on behalf of the owners and management. It was not the manager's intention to offend or target anyone based on their sexual orientation."
The planned protest has a Facebook page with almost 1,000 'Likes'.
It also has a dedicated page on the Kijiji website describing the incident.
Tim Hortons has been in trouble with gay activists in the past in the U.S. for its sponsorship of a National Organization for Marriage event opposing same-sex marriage in Rhode Island. The chain pulled out of the event after activists objected.