The inimitable Rachel Maddow gets a cover story in the Hollywood Reporter in which she discusses a variety of topics, including marriage. She's not ready for it quite yet: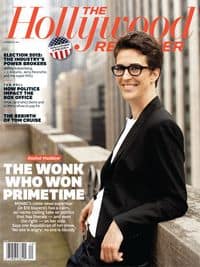 Maddow keeps an apartment in Manhattan, but she decamps to the solitude of Northampton, Mass. on weekends, where she lives with her girlfriend of 12 years, artist Susan Mikula, and Poppy, their black Labrador. The couple met in 1999 when Mikula hired Maddow to dig tree stumps out of her front yard. "It was love at first sight," says Maddow.
Gay marriage was legalized in Massachusetts in 2004, but Maddow says she and Mikula have no immediate wedding plans. "We know a lot of people who have gotten married but I don't think we feel any urgency about it."
Later she admits that she's actually ambivalent about the cultural impact of gay marriage.
"I feel that gay people not being able to get married for generations, forever, meant that we came up with alternative ways of recognizing relationships," she explains. "And I worry that if everybody has access to the same institutions that we lose the creativity of subcultures having to make it on their own. And I like gay culture."
Maddow also talks about meeting Sarah Palin, and what about the meeting made her think Palin could be insightful.
Rachel Maddow: How This Wonky-Tonk Woman Won TV [hollywood reporter]