Denmark's government has announced that in February it will initiate efforts to allow gay and lesbian couples to have the same formal church ceremonies for their weddings that straight couples get, the AP reports: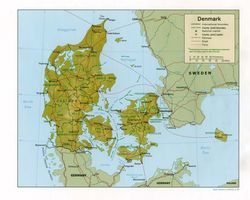 In 1989, Denmark became the first country to allow registered gay partnerships. Since 1997, gay couples in Denmark can be wed in special blessing ceremonies at the end of the regular church service.
Denmark's Church Affairs Ministry says the law change would put Denmark on par with countries including Iceland and Sweden that allow full wedding ceremonies for gay couples.
Said the new church minister of the Church of Denmark, Manu Sareen: "The first same-sex weddings will hopefully become reality in Spring 2012. I look forward to the moment the first homosexual couple steps out of the church. I'll be standing out there throwing rice."
The Copenhagen Post adds: "Less than five percent of Danes today attend church services on a weekly basis, yet 80 percent are – like Sareen – registered members who pay taxes to support it, but who only rarely attend services. This year alone, the Church of Denmark will receive an estimated 5.9 billion kroner in taxes from its registered members, plus additional tax-supported state subsidies amounting to 130 kroner for every single citizen, regardless of religious affiliation, sexual preference, or other beliefs."