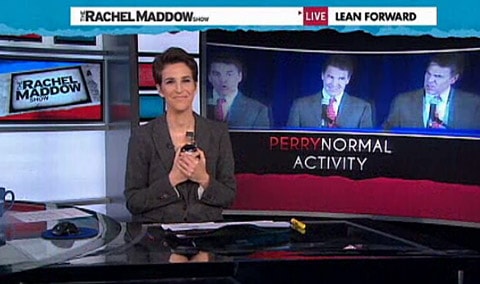 Was Rick Perry's batsh*t crazy speech for the conservative Cornerstone group in New Hampshire the equivalent of Howard Dean's "scream"?
Of Perry, Maddow says: "In the case of Rick Perry, this was not one out of context second. This is 25 minutes. Take your pick of any of these moments. Any of these moments is a Dean scream….and what is truly interesting about this truly fascinating Rick Perry appearance is that he seems like he thinks he nailed it."
Watch, AFTER THE JUMP…
And this may even be worse news for Perry – the organizer of the event says he wasn't drinking – so alcohol isn't to blame for his weird speech:
"I can tell you unequivocally he wasn't drinking at the event and he hadn't been drinking prior to the event," said Kevin Smith, the executive director of Cornerstone Action, the conservative group that hosted the event over the weekend. "I was sitting with him, and I found him to be very engaging with all of the people he was talking with, he was very articulate."
Visit msnbc.com for breaking news, world news, and news about the economy