Miss Virginia USA Nikki Poteet's gay roommate Derek Powell and several others are calling on the Miss Universe Organization to speak out following an incident in which an allegedly drunken Poteet attacked Powell and his boyfriend, using anti-gay slurs and threatening them with assault, Think Progress reports: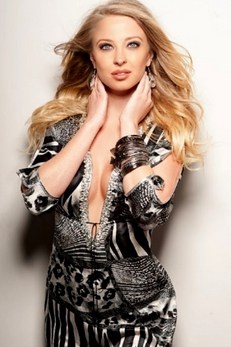 Poteet's roommate since January 2011 — claims Poteet became "extremely violent and physical and proceeded to call me and my boyfriend 'faggots' and 'c**ksuckers'" at around 2 a.m. at their group house in Richmond, Virginia. Poteet denied the allegations during a phone conversation with ThinkProgress, but admitted to some sort of altercation. "One of his friends proceeded to say things that didn't need to be said," she said.
Powell told ThinkProgress that Poteet was "extremely intoxicated" that night and seemed upset that she did not have the full house to herself. She responded by lashing out at Powell, his boyfriend Chris, and their friends, swinging her shoes at the group, pushing people, and claiming that her male companion would "beat" their ass. Poteet kneed another person, ripped the door off of a family heirloom, and "downgraded people based on their physical appearance and economic status," Powell explains in his letter.
Poteet is denying any wrongdoing although several people are backing up Powell's story.
Poteet claimed she loves gays in a phone call to Think Progress before hanging up once confronted with evidence she had damaged property in the incident: "The guy that's in my pageant office is gay and he's my best friend in the world, I talk to him every day."
Looks like somebody's not winning Miss Congeniality.