Raleigh's Pullen Memorial Baptist Church voted on Sunday to bar its pastor from performing any weddings until gay and lesbian couples can marry, the News Observer reports: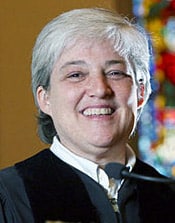 The congregants said in a formal statement that current North Carolina law – and the language proposed for a vote next year on an amendment to the state Constitution – discriminates against same-sex couples "by denying them the rights and privileges enjoyed by heterosexual married couples."
"As people of faith, affirming the Christian teaching that before God all people are equal, we will no longer participate in this discrimination," the church's statement says.
The vote was unanimous and brought tears to the eyes of some of the 100 or so members who stood to vote in favor of the "statement on marriage ceremonies."
The pastor, Nancy Petty, had previously told her congregation that the discrimination "had become a burden on her conscience."