New Hampshire State Rep. David Bates said this week that he would drop efforts to pass a constitutional amendment there to ban same-sex marriage so that Republicans could go full throttle on repealing the state's marriage equality law, the AP reports: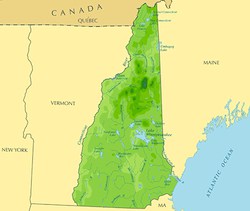 "The bill to change the meaning of marriage back to what it was in statute is well on its way," Bates said.
Bates said he did not want to risk having lawmakers choosing between two measures: the bill and a constitutional amendment. "It would complicate the decision for legislators if there was another alternative out there," he said.
The legislative process seems the appropriate way to decide the issue, he said. If a constitutional amendment is used, millions of dollars in out-of-state money would flow into New Hampshire on both sides of the issue, he said. "I don't think that's the way people want it decided," he said.
New Hampshire Democratic Senator Jeanne Shaheen spoke out against what's happening there in an interview this week with The Advocate:
"I'm very disappointed with the actions of the legislature — and I'm hopeful that they will not be successful," Shaheen said. "These people represent the extreme right wing within this country. … I don't think they represent the majority of the public."
On marriage equality, Shaheen said she believed that DOMA repeal "provides an opportunity for states to address the issue," as the 1996 law "currently acts as a disincentive for states to act independently."
Asked about her own personal position, Shaheen said, "I do think [marriage rights for gays and lesbians] should be the case in every state. But I also think it's important for states to decide the issue."
Republican party Vice Chairman J P Marzullo wrote a powerful editorial in yesterday's Concord Monitor talking about his gay son and asking the legislature to reconsider repeal of marriage equality:
I ask those who represent us in the Legislature to think about this when they are ready to vote for the bill repealing same-sex marriage. One out of every three teenage suicides is related to being gay and the discrimination that they face every day. They come from sound, strong and (in many cases) Christian families with the same values as your families. They are here legally, have jobs, pay taxes and, yes, even serve in our military and have made the ultimate sacrifice as soldiers by dying for freedom and liberty.
Today, Mo Baxley, the executive director of New Hampshire Freedom, a group that led efforts to enact the state's marriage equality law, resigned citing lack of funding and claiming the national group Freedom to Marry stopped funding NHF to fund a new group, Standing Up For New Hampshire Families. Freedom to Marry President Evan Wolfson calls Baxley's claims "a mischaracterization."
A New Hampshire House panel voted 11-6 to advance marriage equality repeal in late October. The full House is expected to vote on the bill early next year.