Minnesota for Marriage, a coalition of Minnesota Family Council, the National Organization for Marriage and the Minnesota Catholic Conference, is awarding $100 Visa gift cards as bait to get people to sign pledges opposing same-sex marriage in the state. Good as You has the form sign-up sheet.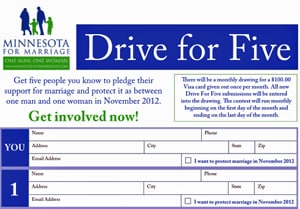 The Minnesota Independent reports that Minnesota prohibits purchase of votes in elections, according to state statute:
Bribery, advancing money, and treating prohibited. A person who willfully, directly or indirectly, advances, pays, gives, promises, or lends any money, food, liquor, clothing, entertainment, or other thing of monetary value, or who offers, promises, or endeavors to obtain any money, position, appointment, employment, or other valuable consideration, to or for a person, in order to induce a voter to refrain from voting, or to vote in a particular way, at an election, is guilty of a felony. This section does not prevent a candidate from stating publicly preference for or support of another candidate to be voted for at the same primary or election. Refreshments of food or nonalcoholic beverages having a value up to $5 consumed on the premises at a private gathering or public meeting are not prohibited under this section.
They note that the contest might pass that test because it doesn't explicitly ask for a vote.