Oklahoma City's City Council has voted 7-2 in favor of extending employment discrimination protections in city offices to gay and lesbian employees. The measure was introduced by Councilman Ed Shadid, The Oklahoman reports: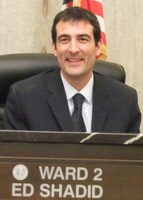 The measure adds "sexual orientation" to the list of protected equal employment opportunity classes. Gay employees and job applicants already had de facto protection from employment discrimination, city staff said.
In advocating for his measure, Shadid said his instinct as a businessman is to provide protection to everyone. He also said Scripture is too unclear and subjective to sway him. Shadid likened employment discrimination against gay people to efforts by Adolf Hitler to single out groups for discrimination in Nazi Germany.
There were many speakers who came out against approving it, including one pastor who made this claim:
Tom Vineyard, pastor at Windsor Hills Baptist Church, said half of all murders in large cities are committed by gay people.