Janice Daniels, the new mayor of Troy, Michigan, is feeling the heat for a recently-uncovered Facebook status update she wrote back in June after marriage equality was passed in New York.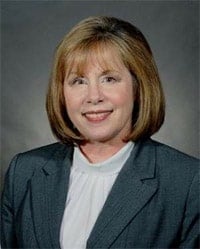 Said Daniels' update: "I think I am going to throw away my I Love New York carrying bag now that queers can get married there."
The blog "Keep Troy Strong" uncovered the post last night, and it's spread across social media. Daniels confirmed today that she did post the message, though she said she decided against ditching the bag.
"I may have said something like that," she said. "I probably shouldn't have used that kind of language, but I do believe marriage should be between one man and one woman."
Daniels also criticized "Keep Troy Strong" for having a vendetta against her administration…
…Daniels added that while she's opposed to gay marriage, and has moral issues with homosexuality, she doesn't hate gay people. "I love all people. I am human. That was probably a poor choice of words."
The Facebook post has since been removed.
Daniels was elected last month and is a longtime activist in Michigan's Tea Party, the Detroit Free Press reports:
Gay rights leaders in Michigan said Daniels' words amounted to hate speech. Denise Brogan-Kator, executive director of Equality Michigan, said on her own Facebook page: "I find it discouraging that a leader of people can have such disregard for the lives of people she serves."
UPDATE: A rally protesting Daniels and calling for her resignation is scheduled 3 p.m. to 11:30 p.m. at Troy City Hall, 500 W. Beaver, which coincides with a Troy City Council meeting at 7:30 p.m.