A Minnesota appeals court today ruled that District Judge Mary Dufresne wrongfully dismissed a 2010 lawsuit brought by three gay couples when she rejected the couples' claims on the basis of Baker vs. Nelson, a 1971 Minnesota Supreme Court decision that said limiting marriage to opposite-sex couples does not violate the U.S. Constitution.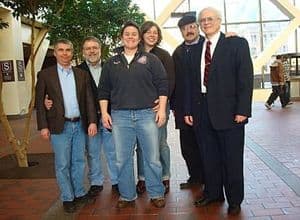 The Star-Tribune reports:
In the 15-page unpublished ruling, the Appeals Court ruled that Dufresne was right when she threw out the suit because the state was not an eligible defendant and because it did not violate the couples' religious freedom, but that she improperly relied on the Baker case. The couples should be granted an opportunity in district court to prove their rights were violated, Judge Renee L. Worke wrote.
"…Even if the right to marry is not considered a fundamental right, appellants should have been granted an opportunity to show that MN DOMA is not a reasonable means to its stated objective — to promote opposite-sex marriages to encourage procreation," Worke wrote.
The case will now return to Hennepin County District Court where it will likely proceed to trial, the paper reports.
The plaintiffs include Doug Benson, executive director of Marry Me Minnesota, and his partner, Duane Gajewski of Robbinsdale; Tom Trisko and his partner, John Rittman of Minneapolis; and Jessica Dykhuis and her partner, Lindzi Campbell of Duluth, plus their son, Sean Campbell.